Just like that (or what feels like "just like that" to me – maybe for those working in health services it feels never ending), it is December, and Christmas is around the corner. Four days' away, to be precise. And, after that, the New Year. If you live in the Western Hemisphere, and if you celebrate this festival, your house is probably decorated, and you are gearing up for a special meal, and the exchange of gifts.
I am finding it comforting to do something just because "that's what we do", in what was a very unusual year, and what looks like a very uncertain future (Covid-19, Brexit, …). There will be gift giving, because that's what you do at this time of the year; and there will be a special meal, because that's what you do at this time of the year. I am even cooking cod for Christmas – the dry, salted type, as is the tradition in Portugal, and even though I am not fond of it.
A time for nostalgia
While cod is the tradition in Portugal, in the UK it is Turkey. And this year, the sale of luxury turkeys is up. Most of us are being discouraged from travelling and from gathering in large groups. In the UK, a new strain of the Coronavirus has been discovered, recently, which seems to be highly transmissible, and led to the introduction of even more restrictions of movement in England, Scotland and Wales, as well as travel bans from various countries around the world.
Christmas, like all major festivities of a religious nature (Ramadan, Diwali, Passover…) is a time for nostalgia. People like to revisit old familiar traditions, and recount childhood memories. This nostalgia is often accompanied by indulgence, including through the over-consumption of calorie dense food. And, this year, it looks like people went all the way, with Tesco even running out of festive food items such as smoked salmon or prawn cocktail.
A time for gifts
Major religious festivities are also a time for gift giving. While, this year, Britons were planning to spend less on gifts, they seemed to have got an early start on gift buying. One week before Christmas, 50% of Britons had already bought all of their gifts (vs 38%, at the same time last year).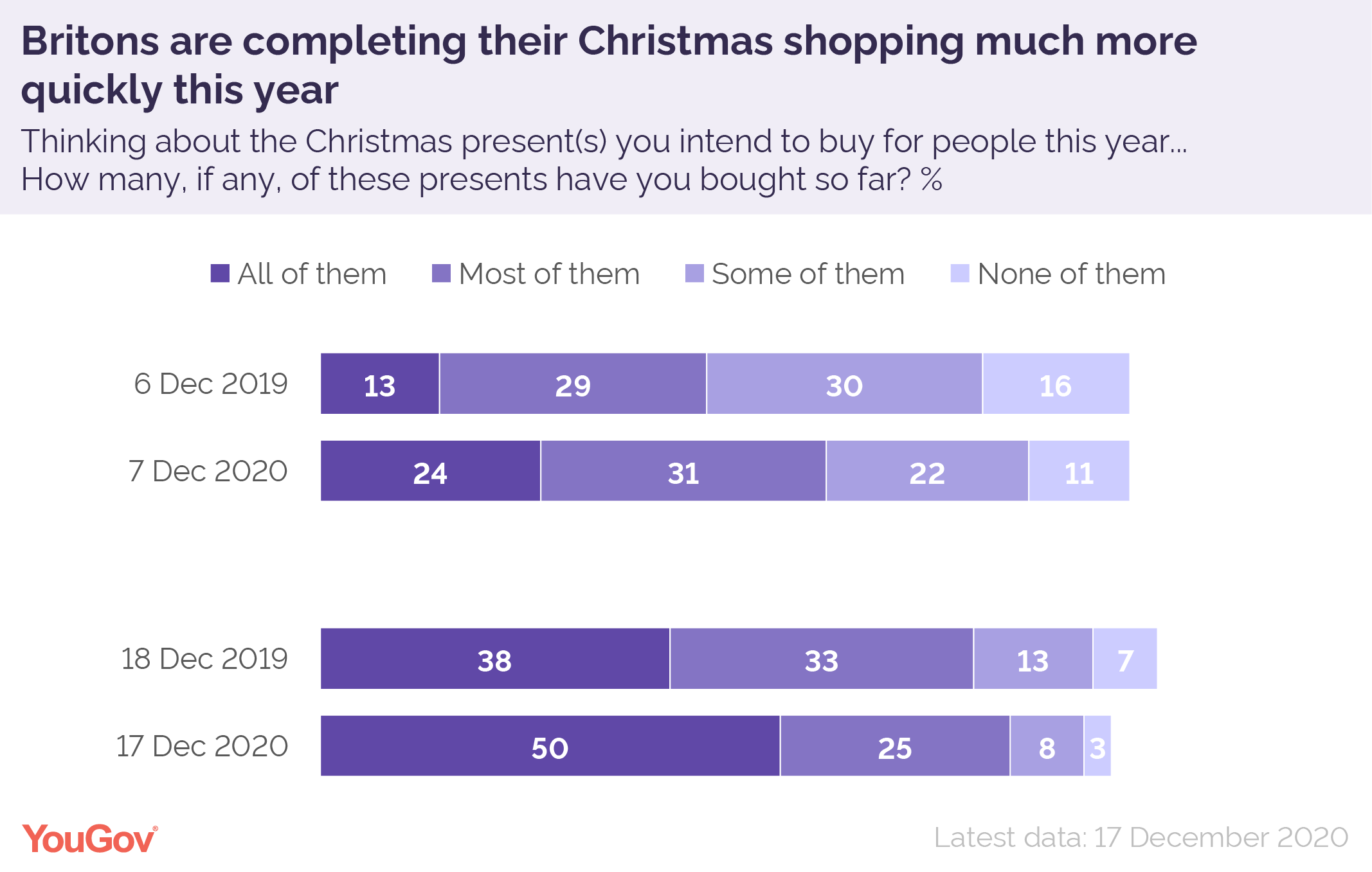 Usually, gift giving is good for the economy, but less so for individuals. On average, we tend to value the gifts received 20% less than the amount spent on them. Having said that, this year, because of Covid-19, the usual ways of enjoying ourselves (like travelling, leisure or entertainment outside of the house) are not available to us. Thus, Joel Waldfogel – author of the book Scroogenomics – thinks that, this year, we are more likely to value all gifts received. Though, he still encourages people to offer "donations to charity", instead of knick-knacks.
A time for thinking of others
Christmas is also a time for thinking of others. While we are (unduly) jealous about how much more fun other people may be having, we are also aware that many others are spending their times ill, alone, or worried about the future. Though, this year, most charities have seen an increase in the demand for their services, while at the same time struggling to generate funding.
A cause that is very close to my heart, this Christmas, is the plight of my friend M. Through a series of bizarre events (including undiagnosed mental illness in her oldest child who is hearing voices, and reported her for mental and physical abuse), M saw their three children being taken away by social services in Sweden. She is not perfect, but she is a very loving mother. M needs help to get her children back home, starting with getting financial help to hire a good lawyer. So, if you could skip a fancy coffee this Christmas and donate to her legal fund, it would mean the world to her (or if you are a lawyer in Sweden, please get in touch with her).
If you can't donate money, or don't want to do so, then please consider donating blood.
And, last but not least, here is my gift to you: